Promote peaceful and inclusive societies for sustainable development, provide access to justice for all and build effective, accountable and inclusive institutions at all levels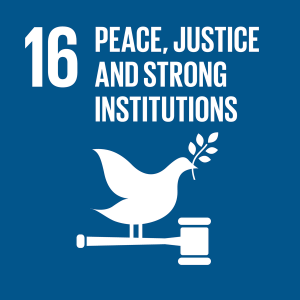 Violence rates increased and many were exposed to violence, including women and children, in light of the lack of security and the exceptional circumstances that Iraq went through due to ISIS terrorism. A number of legislations have approved this goal:
Reducing clan conflicts that are committed and violating human rights by applying laws against the perpetrators of these crimes and holding them accountable legally.
Establishing a special commission for the care of children and approving a policy to protect children in Iraq and from all types of violence committed against them
Adoption of the prostitution law that criminalizes the sexual exploitation of young children, especially young girls.
Establishing directorates to protect the family and children from domestic violence in the Ministry of Interior.
Iraq suffers from several problems represented primarily in the weakness of the rule of law, as well as the conditions of killing, displacement and displacement of a large proportion of the population. These factors have limited the ability to achieve progress in this goal as a result of corruption in the state's civil and military institutions, and weak political participation For a large part of society, and through the indicators of the table, it can be seen that the indicators of the rule of law and the efficiency of the government in Iraq are very weak, especially after the increase in protests, demonstrations and government violence to deter protests. As for violence against children and women, Iraq has witnessed an expansion in domestic violence for women and girls Children and the accompanying physical and psychological punishments. As for detainees who have not been convicted, Iraq has witnessed tangible progress in this indicator, accompanied by relatively tangible challenges. As for the administrative and financial corruption that is widespread in state institutions, it has affected all sectors, whether private or public. In addition to the problems mentioned above, Iraq may suffer from premeditated murders and assassinations. The Arab Sustainable Development Report stated that Iraq ranks second after Comoros in the rate of premeditated murders and assassinations, in addition to the high deaths resulting from battles and internal wars with ISIS, which increased the rate of premeditated murders and assassinations (i).
[i] ESCWA, The Arab Report on Sustainable Development 2020, p. 202.